We at San Diego Whale Watch believe in the importance of educating our children on the Pacific Ocean and the various marine life which inhabit it. During the months of December through April, students will learn about the gray whale migration, a 12,000 mile roundtrip journey which may be the longest migration of any mammal on Earth. Students will learn why gray whales spend the summer months in the Bering Sea, between Alaska and Russia.
The trained naturalists will also help students understand the purpose of the migration south, along the west coast of Canada and the United States, ending up in the quiet lagoons of Baja California during the winter months. Students will gain a better understanding of filter feeding whales which use baleen to filter prey from the water, while also learning about the size of the gray whales, and the purpose of blubber and bumps on their back. Additionally, students will learn how the gray whale has made an amazing recovery from the verge of extinction and what actions can be taken to save the gray whales and other ocean animals.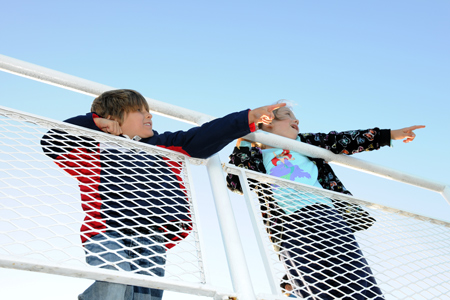 From the months of May through November, students will learn about the family of whales known as the rorquals, which consists of the blue whales, humpback whales, fin whales, Bryde's whales, sei whales and minke whales; most of which can be seen off of the coast of California. The blue whale, known as the largest animal on earth, can range in length from 90 feet to over 100 feet and weigh over 200 tons! Students will gain a better understanding of how the blue whale achieves its size, the sounds that it makes and their migration pattern. Students will be educated on other members of the rorqual family such as the humpback whale, whose shape and color pattern on the dorsal fin and flukes are as individual in each animal as are fingerprints to humans. Additionally, students will learn about the mighty fin whales, among the fastest of the great whales, it is capable of bursts of speed of up to 23 mph leading to its description as the "greyhound of the sea". Students will also be introduced to the minke whale, the smallest member of the rorqual family, which tends to be a solitary animal, but is sometimes seen in small groups of 4 to 6. Students will receive a broad array of understanding on all of the whales as it relates to their feeding, migratory patterns, size differences and sounds. Students will be taught about the reasons why some of these whales are endangered and how we can all help save them from extinction.
The curriculum can be customized to enhance the topics currently being taught in the classroom.
School group price is $10.00 per person and applies to groups of 20 or more. For more information, please contact us at events@sdwhalewatch.com.
For our Educational Links Click here